Electric Tankless Water Heater 27kw 220V/240V,
MAXWELL Brand - For Residential, Commercial, Campgrounds, RV's, Patios, Pool applications.
Model# MS270C2TMU - Stainless Steel
Your Price $469 (MSRP $835)

Maxwell electric tankless water heaters is the futuristic solution for water heating technology,
providing you instant endless hot water supply on demand, as long as needed. NOW you will
save up to 50% in water heating energy consumption with 99% efficient Maxwell water heaters.
Sleek, lightweight, attractive and compact design gives you limitless installation options.
By strategically locating the Maxwell heaters, maximum performance and reduced
water consumption will be achieved for point of use and/or whole house water heating applications.
Since there is no inefficient mixing of cold water involved there is no Lengthy recovery time
and stand by heat losses and decay of efficiency over life as with traditional tanked water heaters.
Features:

·Case-unique glossy IMD front cover, splash-proof, corrosion and age resistant

·Patented heating technology – enclosed loop heating system for instant hot water with less heating loss, nano insulation material totally separates water from electricity

·Reliability – Multi-layer structure heating chamber forms a long circulating water channel resulting in a long life span, less lime scale

·Multi-protection devices – electricity, leakage, anti-scalding, over-pressure, over-temperature, and electricity isolation

·Digital temperature control - Direct temperature setting, from 86º F -127º F, allows you to get constant hot water at the precise temperature for maximum comfort and suitable for different applications; memory function avoids repeating settings.

·Convenience - LED wide screen touch button displays the working conditions, outlet temperature, working time, and power consumption.

·Advanced micro-processor control - Self-diagnostic function automatically monitors and displays working conditions, providing constant temperature water flow by engaging heating elements in stages

·Soft Start. – Power is regulated to avoid excessive startup surge.
Advantages:

·Endless hot water supply on demand

·Saves up to 50% on water heating costs

·Space-saving compact design

·99% plus energy efficient with minimal standby loss

·Sleek, lightweight and modern design fits most applications

·Instant hot water at point-of-use applications reduces waiting
time and water consumption

·Much longer life expectancy over conventional water heaters

·No hot water storage, thus reducing mineral deposits and lime
scaling to prevent efficiency reduction over time.

·Easy installation with provided accessories

·Environmentally friendly - no venting required -

·Compact design

·No minimal stand by energy losses

- No corrosion

- No enefficient mixing cold water.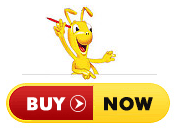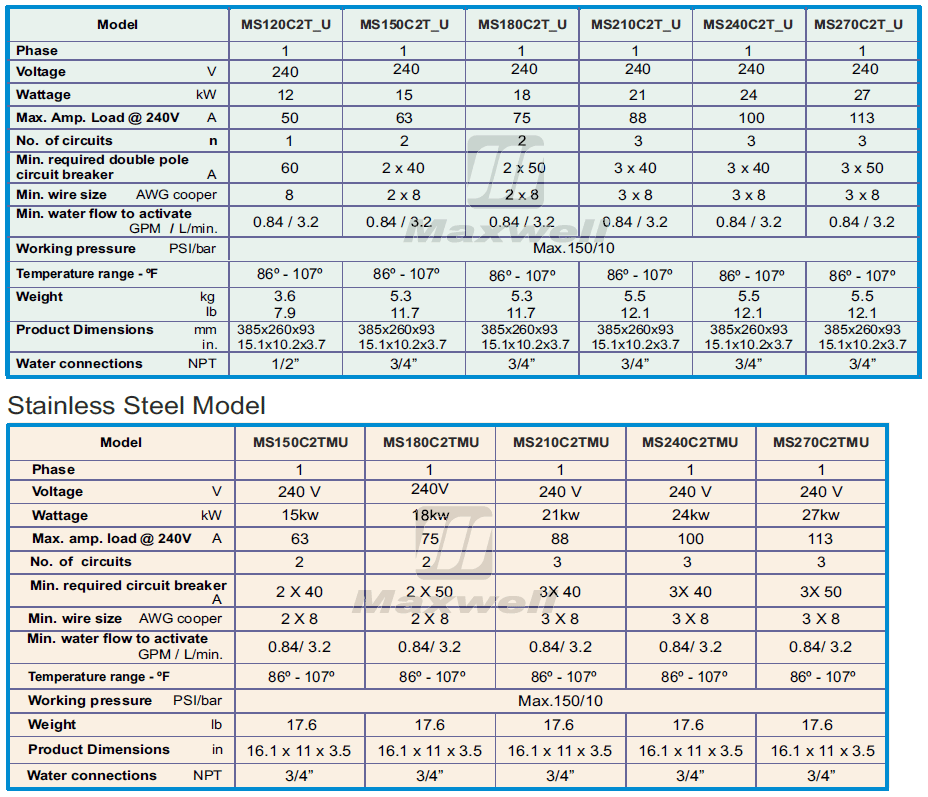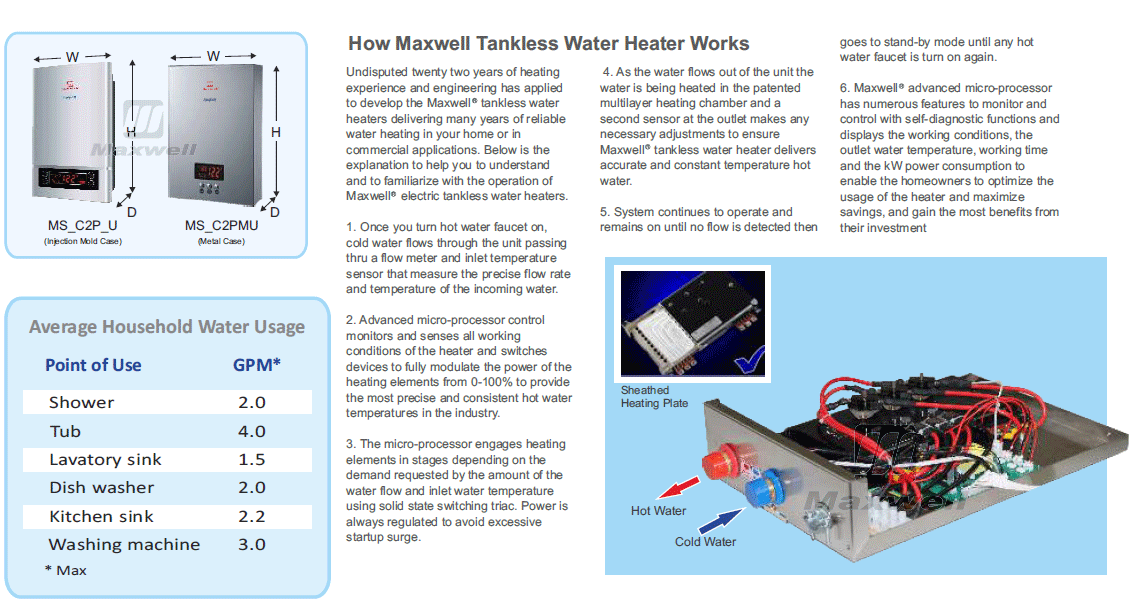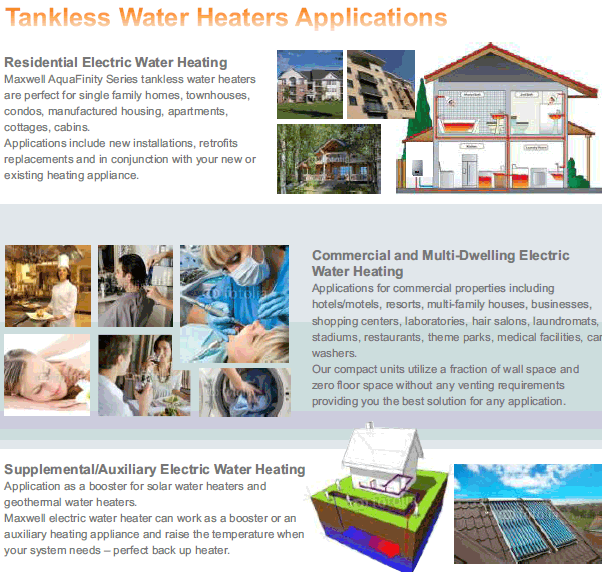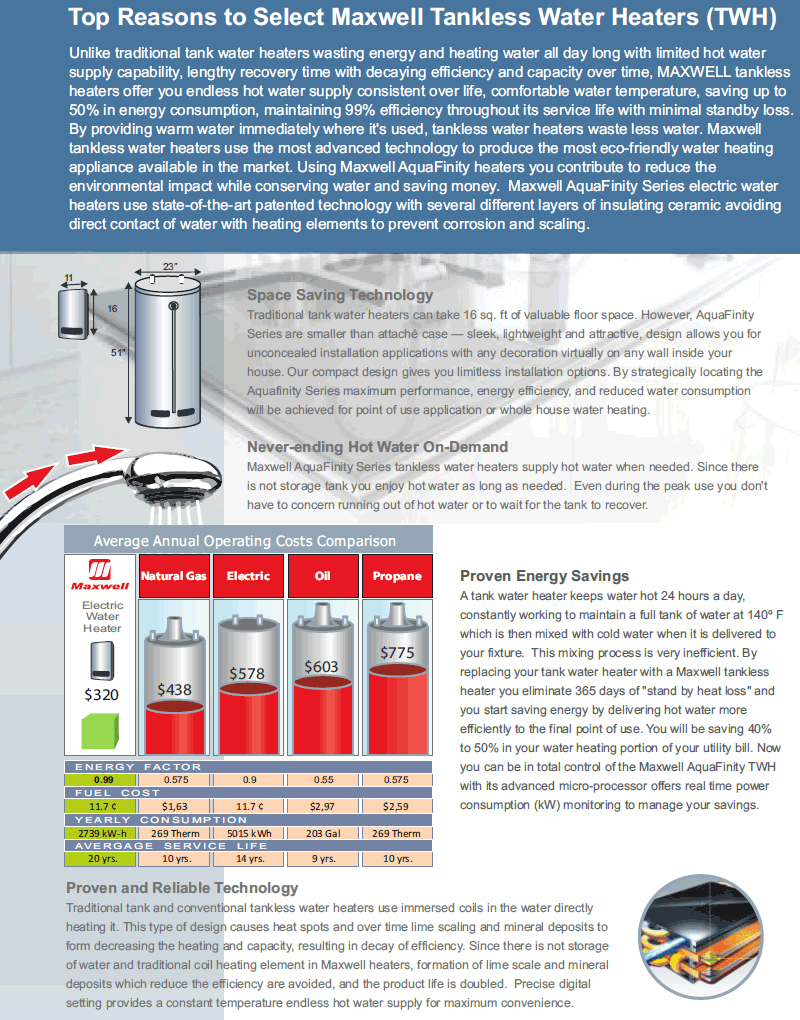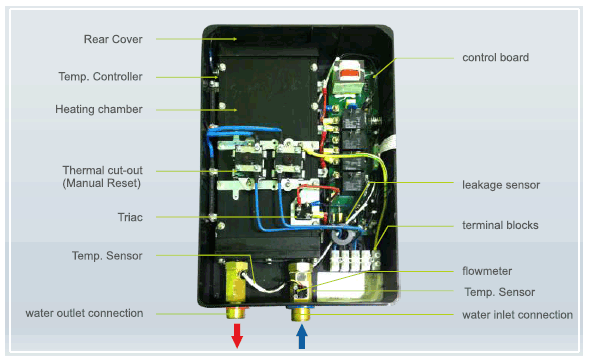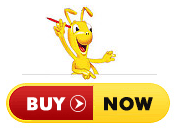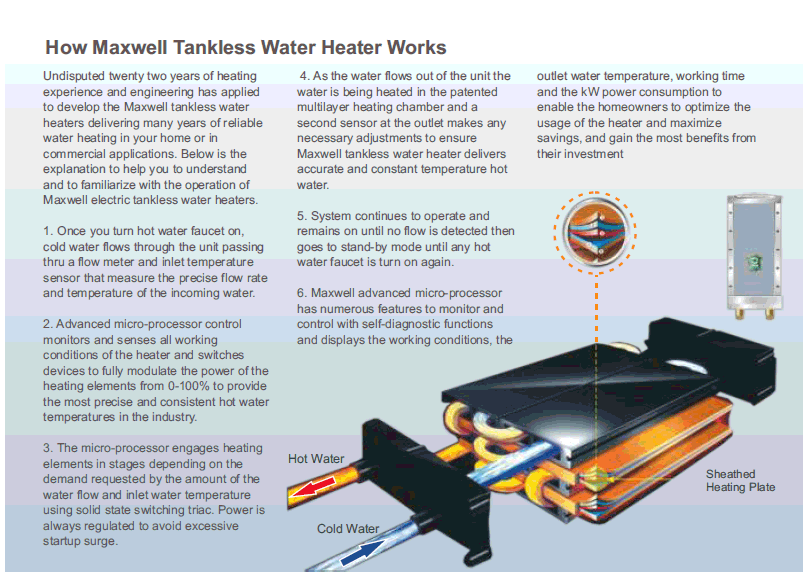 Warranty Of This Product
RESIDENTIAL & COMMERCIAL LIMITED WARRANTY
1. (a) ONE YEAR LIMITED
WARRANTY: KLIMAIRE PRODUCTS INC. ("KLIMAIRE") warrants to the original end user at the original address the MAXWELL Tankless Water Heater subject to the terms and conditions set forth herein. Maxwell tankless water heater is warranted against mechanical or electrical failures due to manufacturing defects for a period of one year from the date of shipment provided that the product is installed within sixty (60) days from date of shipment/purchase from Klimaire Products, Inc. and installed by a licensed electrician and plumber (specific proof required) and maintained in accordance with
products written instructions. Replacement or exchange parts are warranted for the remainder of the original warranty period.
(b )THREE YEARS HEATING CHAMBER WARRANTY. During the warranty period from the date of shipment/purchase from Klimaire Products, Inc. should the heating element fail due to manufacturing defects Klimaire will replace or repair the heat exchanger with the heating element at its discretion at no charge except for the freight cost which is the owner's responsibility subject to conditions herein stated.
(c) THREE YEARS REPLACEMENT LIMITED WARRANTY. This warranty applies to original end users who have purchased a replacement limited warranty at the time of purchasing Maxwell Tankless Water Heaters. Klimaire Products, Inc. during the warranty period from the date of purchase should the water heater failed due to improper workmanship and or material Klimaire will furnish a replacement Maxwell tankless water heater at no charge except for all the freight costs which are the owner's responsibility subject to the conditions herein stated. The replacement unit warranty is made under a "Bill and Credit" term via a credit card and upon return of the defective unit Klimaire Products, Inc. will determine the cause of failure, and if under warranty will issue a full credit less shipping charges. The returned (replaced) unit must be received by KLIMAIRE within ten (10) days of shipment of the replacement. The replacement unit will be shipped via standard ground service. If quick shipping service is desired original end user must pay for the extra cost of the shipment. Replacement parts are warranted for the remainder of the original warranty period.
2. THIS WARRANTY DOES NOT COVER:
(a) Product failure caused by liming, chemical corrosion, built up sediment, chlorine and chloride corrosion, or freezing, or other abnormal environmental conditions.
(b) Product failure caused by the failure to remove air from system prior to or during operation.
(c) Damages caused by accident, abuse, negligence, misuse, installation and operation of the product in a manner contrary to the instructions of the manufacturer (improper installation), or improper voltage application, tampering or misapplication.
(d) Failure or damages due to floods, winds, lightening, brownouts, blackouts, and fluctuations in electrical power, or other acts of God.
(e) Costs incurred for shipping and handling either of defective or replacement parts or complete unit, administrative charges, and any type of freight damages.
(f) Defects, failures or damages due to the use of any attachment, accessory or component contrary to manufacturers recommendation, or other conditions beyond the control of manufacturer.
(g) Labor or any other costs of any kind incurred for servicing, repairing, removing, installing, complying with local, electrical codes.
(h) This limited warranty also excludes all costs of installation, disconnection or dismantling the products, parts use in connection with the product and owner required maintenance that are the responsibility of the owner.
(I) This limited warranty also excludes service calls where there are no defects in the system covered under this warranty is found, adjustments of user controls, repeated calls for a same failure.
3. The product must be installed and located in the fifty United States, Canada and
Puerto Rico
4. LIMITATION OF REMEDIES AND DAMAGES: YOUR ONLY REMEDIES ARE PROVIDED IN THIS LIMITED WARRANTY. ANY EXPRESSED WARRANTY NOT PROVIDED HEREIN AND ANY REMEDY, WHICH BUT FOR THIS PROVISION MIGHT ARISE BY IMPLICATION OR OPERATION OF LAW IS HEREBY EXCLUDED AND DISCLAIMED. THE IMPLIED WARRANTIES OF MERCHANTABILITY AND OF FITNESS FOR ANY PARTICULAR PURPOSE ARE EXPRESSLY LIMITED TO A TERM OF ONE (1) YEAR FROM THE DATE OF ORIGINAL INSTALLATION. UNDER NO CIRCUMSTANCES SHALL KLIMAIRE BE LIABLE TO THE OWNER OR ANY OTHER PERSON FOR ANY INCIDENTAL, SPECIAL, OR CONSEQUENTIAL DAMAGES IN CONNECTION WITH THIS PRODUCT, WHETHER ARISING OUT OF BREACH OF WARRANTY, BREACH OF CONTRACT OR OTHERWISE. Klimaire liability and buyer's exclusive remedy hereunder will be limited only to repair or replace by Klimaire of any claim made within the applicable limited warranty. All warranty items shall be returned by buyer, at its sole expense, to Klimaire for replacement or to be repaired. Klimaire reserves the right to accept or reject any such claim in whole or in part. Klimaire will not accept the return of any product without prior RMA (return merchant authorization) number and written approval by Klimaire. KLIMAIRE WILL NOT BE LIABLE, UNDER ANY CIRCUMSTANCES, FOR ANY CONSEQUENTIAL OR INCIDENTAL DAMAGES, INCLUDING BUT NOT LIMITED TO LABOR COSTS OR LOST PROFITS ARISING FROM THE USE OF (OR INABILITY TO USE) THE PRODUCTS OR FROM THE PRODUCTS BEING ATTACHED WITH OR BECOMING A COMPONENT OF ANY OTHER PRODUCT, GOODS OR SERVICES.
5. ADDITIONAL LIMITATIONS AND EXCLUSIONS AFFECTING YOUR WARRANTY:
(a) This limited warranty applies only if the product is installed in accordance with relevant, local electrical and plumbing codes and in compliance with good trade practices and the installation instructions specified by the manufacturer and installed by electrical and plumber licensed contractors. All local codes will supersede manufacturer's instructions at the time of installation and if additional installation parts
or components are required, the costs will be borne by buyer. (b) All installations above ground must be protected with drip pans and drains as per code requirements for protective purposes used in regular tank hot water installations. (c) Buyer has the sole responsibility for ascertaining whether the existing electrical power at their residence is adequate and sufficient to operate Maxwell Tankless Water heaters as indicated in our specifications that are readily available at our website, in our brochures and contained in the quick select charge on the product box for installers to read before purchase and installation. If Buyer has purchased without first ascertaining the cost of installation or the power requirements to operate the product, it is the sole responsibility of the buyer. Klimaire at its sole and complete discretion
may allow a return and grant a refund less all freight charges and less 20% of the retail price as a restocking fee. The refund will be conditioned upon a determination by Klimaire after inspection of the returned Product it must be in new condition, unopened, unused in original packaging and include all packaging materials, registration cards, and other accessories and be received within 30 calendar days of
the invoice date. AFTER 30 DAYS FROM DATE OF PURCHASE NO RETURNS WILL BE ALLOWED. BUYER ACCEPTS ALL SALES AS FINAL. ANY ALTERATION TO THE PRODUCT VOIDS ALL WARRANTIES. KLIMAIRE IS NOT RESPONSIBLE FOR ANY OTHER CHARGE OR EXPENSE INCURRED OTHER THAN THE ORIGINAL PURCHASE PRICE OF THE PRODUCT. Klimaire shall not be liable for consequential, special, incidental or contingent expenses or damages arising directly or indirectly from any defect in or use of the Product nor will Klimaire be liable for any water damage arising directly or indirectly from the use of the Product or from the failure of or defect in any component part or connecting plumbing. Klimaire and Buyer agree to the above terms in their entirety and accept all sales as final without recourse to a credit card company and hereby agree that any and all actions arising from or relating to this Manufacturer's Limited Warranty. (d) Altering a Maxwell product or replacing parts with non-authorized parts voids all warranty or implied warranty; this may result in adverse operational performance and/or a possible hazardous safety condition to service personal or occupants. Klimaire employees and/or agents are not authorized to waive this warning. (e) No one is authorized to change this LIMITED WARRANTY in any respect, or to create for us any other obligation or liability in connection with this product. (f) The unit rating plate must not be removed, or altered, or defaced.
6. To obtain warranty service
(a) Parts Replacement Procedure: please contact your installer dealer or contractor who installed this product to determine the exact parts / components that are defective and require replacement. Technical support is available for qualified licensed electricians and/or plumbers only, and since it involves potentially dangerous electrical conditions is not available to an unqualified person(s).
When contacting Klimaire technical support/warranty department, please be sure that the technician has the following information readily available on hand: copy of your original Warranty Registration, has read all manuals that come with the unit or by visiting our web site. If, at the sole discretion of Klimaire, any defective part or component requires repair or replacement under the terms of this Klimaire Limited Warranty, the part will be shipped via standard ground delivery. All shipping and handling charges will be borne by the buyer and it will be shipped via standard ground service. If faster shipping service is desired, the buyer must request and pay for the available speed service. Any defective part/component must be made available to Klimaire in exchange for the replacement part and become property of Klimaire not less than 10 days of the shipment of the replacement parts/components.
(b) Unit replacement procedure. If Klimaire determines at its sole discretion to replace the unit under its extended limited warranty it will be done under a "Bill & Credit" term via credit card and upon return of the defective unit, Klimaire will determine the cause of failure, and if under warranty Klimaire will issue a full credit less shipping & handling charges. The defective (replaced) unit must be received by
Klimaire within ten (10) days of shipment of the replacement unit.
7. WARRANTY REGISTRATION: In order to be eligible for coverage under this warranty you must register with Klimaire within sixty (60) days of installation at www.Klimaire.com or the warranty registration form included with the product may be submitted to Klimaire Products Inc, 2190 NW 89th Place, Doral Florida 33172 or via fax at (305) 593-8212, if registration is not completed within sixty (60) days the warranty period reverts to one (1) year for all parts specified herein.
THIS LIMITED MANUFACTURER'S WARRANTY THAT GIVES BENEFITS TO THE ORIGINAL PURCHASER, SUBJECT TO THE TERMS AND CONDITIONS SPECIFIED HEREIN. You must keep your product documentation in a safe place, retain all proof of purchase, installer's receipts for your limited warranty in order to protect your rights and obtain manufacturer's limited warranty benefits. The limited warranty is given to the buyer with proof of purchase only. Possession of the product does not give you the right to obtain benefit of the manufacturer's.